"Dick Lips" is a Blink-182 song about when guitarist/singer Tom DeLonge was kicked out of high school for attending a basketball game drunk. The song appears on the album Dude Ranch as well as on The Mark, Tom and Travis Show (The Enema Strikes Back!) although credited as "Rich Lips." It was released as a single in 1998.
The band came up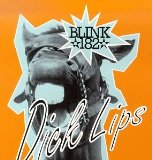 with the name while recording Dude Ranch, when Hoppus and DeLonge were in the habit of calling everyone "dick lips." When the producer came in one day and asked what the name of the song was that they were playing, Hoppus and DeLonge both blurted out "dick lips," and the name stuck.
Track listing
Edit
"Dick Lips" - 2:56
"Apple Shampoo" - 2:52
"Wrecked Him" - 2:50
"Zulu" - 2:07
Ad blocker interference detected!
Wikia is a free-to-use site that makes money from advertising. We have a modified experience for viewers using ad blockers

Wikia is not accessible if you've made further modifications. Remove the custom ad blocker rule(s) and the page will load as expected.