"I Miss You" is the second single from Blink-182's 2003 self titled album. It was released in February 2004. The song signals a drastic departure from Blink-182's usual upbeat, crudely humorous style, presenting a somber theme and a slower pace. In the music video (see below), the band plays at a haunted mansion. The video was also featured on their Greatest Hits album.
The song reached number one on the Billboard Modern Rock chart and peaked at number 42 on the Billboard Hot 100. Although "All the Small Things" had more radio airplay, "I Miss You" sold more singles, being certified gold for selling over 500,000 copies (RIAA gold single certification). The song was a top ten hit single in the United Kingdom, peaking at number eight in 2004.
Lyrics and production                                                             
Edit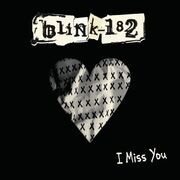 The song features references to Tim Burton's 1993 movie The Nightmare Before Christmas, with "We can live like Jack and Sally" and "We'll have Halloween on Christmas". Travis Barker says that the line was directed towards his then girlfriend, Shanna Moakler. The two would have a Nightmare Before Christmas themed wedding on October 30, 2004.
In popular culture
Edit
The James Guthrie mix of "I Miss You", which can be found on the "I Miss You" single, was also included in the benefit album Future Soundtrack for America (2004). The song is also available as DLC for Rock Band.
Music video
Edit
The video directed by Jonas Åkerlund was shot in a house, and the band members were made to wear make-up to give a ghostly feel as well as 1920's outfits. It also features Mark Hoppus playing a double bass, inspired by Phil Thornalley of The Cure's use of one in the video for the band's 1983 single "The Lovecats". In the CDs booklet, Hoppus states:
I'm a really big Cure fan and one day, I was listening to their song "[The] Lovecats", and I loved the idea of using a stand-up bass guitar and jazz brushes. So what we ended up doing was writing a song with all acoustic.
As a result of this, Mark had to use superglue on his fingertips as his skin was shredding off due to the number of takes for the video. In the album notes he states that the song was written 'all acoustic' and there is footage of him playing an acoustic bass in the "Cheetah" videos from when they were recording the album.
Ad blocker interference detected!
Wikia is a free-to-use site that makes money from advertising. We have a modified experience for viewers using ad blockers

Wikia is not accessible if you've made further modifications. Remove the custom ad blocker rule(s) and the page will load as expected.