"M+M's" is a song by Blink-182. It is the second track off their debut album, Cheshire Cat. It was later released on Blink-182's Greatest Hits album.
Music video                                                                                   
Edit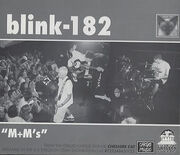 The music video for "M+M's" shows the three band members. The unedited video starts with each member waking up, and stealing something from their girlfriends. They sneak out, meet up, and hang out at Belmont Park where they goof off. Finally, they head to Soma, San Diego's main all ages concert venue. They encounter their girlfriends, and a gunfight ensues. After finally getting on stage, they realize their show has been postponed. Due to the gunfight, this video did not receive extensive airplay on MTV. The edited version of this video is more commonly seen with the gun fight scene edited out. According to the biography of Blink-182 titled "Tales from Beneath Your Mom", Anne Hoppus, the author, claims that if you look closely in the dark, when the band returns to Soma, you can see a lonely figure in the dark with an alien mask on. This is Anne Hoppus. The unedited version of the video is seldom seen nowadays, and is not even featured on the Greatest Hits DVD. "M+M's" was actually released as a radio promotional single in 1995, marking this their first ever single.
Ad blocker interference detected!
Wikia is a free-to-use site that makes money from advertising. We have a modified experience for viewers using ad blockers

Wikia is not accessible if you've made further modifications. Remove the custom ad blocker rule(s) and the page will load as expected.