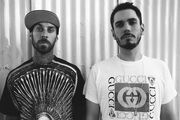 TRV$DJAM was a collaboration project between Travis Barker of Blink-182 and Adam Goldstein, a.k.a DJ AM. They performed their first show on June 25, 2008 at the Roxy and released a mix tape online in August 2008 titled Fix Your Face. In June 2009, they released a 2nd mix tape titled Fix Your Face Vol. 2 - Coachella '09. Hours after performing for thousands of college students on September 20, 2008 in Columbia, SC, Barker and DJ AM were critically injured in a fiery Learjet crash that killed four people.
The artists' collaboration project is now over after their two released mixtapes, due to the death of Goldstein on August 28, 2009 at his apartment in New York City.
Discography
Edit
Fix Your Face Vol. 2 - Coachella '09 (2009)
Ad blocker interference detected!
Wikia is a free-to-use site that makes money from advertising. We have a modified experience for viewers using ad blockers

Wikia is not accessible if you've made further modifications. Remove the custom ad blocker rule(s) and the page will load as expected.